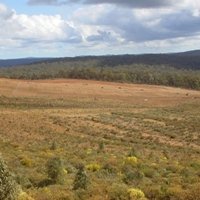 Friday, 1 February 2013
The United Nations aims to restore 150 million hectares of degraded land world-wide by 2020 - but restoration ecologists at The University of Western Australia warn this will prove to be a significant challenge unless people understand it will take more than simply planting trees.
Myles Menz, a PhD candidate in UWA's School of Plant Biology, is the lead author of an article published today in Science which argues that gaps in knowledge must be identified, capacities developed and research translated into policy and practice in order to achieve success in landscape-scale restoration projects.
With UWA's Professor Kingsley Dixon and Australian Laureate Fellow, Winthrop Professor Richard Hobbs, Mr Menz proposes a four-point plan to ensure restoration sustains and enhances restoration values, while recognising that preventing environmental loss and damage is better than restoration after damage has happened.
Their four points are: identify focal regions with high restoration demands (such as drylands, which will suffer greatly from climate change); identify knowledge gaps and prioritise research needs; create restoration knowledge hubs; and publicise the political viability of restoration by showing the economic and social benefits that restoration will provide.
The authors also highlight a number of international restoration failures and successes, and point out that in some regions - such as the global biodiversity hot spot in WA's south-west - restoration needs far outstrip scientific knowledge.
"Restoration science often falls short of practical demands," Mr Menz writes. "Early forest restoration in south-western Australia involved planting non-native and non-local species based on what was current best practice at the time. Consequently, science programs were undertaken to fill these gaps in knowledge."
The authors cite other initiatives such as China's Great Green Wall where large-scale plantings of non-native trees could damage local ecosystems even more.
The authors aim was to highlight the issues that will face such large-scale projects, while challenging the restoration community to think broadly and engage with multiple stakeholders to build capacity in order to meet these challenges.
Media references
Myles Menz (PhD candidate, UWA School of Plant Biology)  (+61 8)  9480 3920
Professor Kingsley Dixon (Permanent Visiting Professor, UWA School of  (+61 8)  9480 3614
Plant Biology, Director Science Kings Park and Botanic Garden)
Winthrop Professor Richard Hobbs , Australian Laureate Fellow, (UWA School of  (+61 8)  6488 4691
Plant Biology, Ecosystem Restoration and Intervention Ecology Research Group)
Michael Sinclair-Jones (UWA Public Affairs)  (+61 8)  6488 3229  /  (+61 4) 00 700 783
Tags
Channels

Media Statements — Research — University News

Groups

Science Matters — UWA Institute of Agriculture