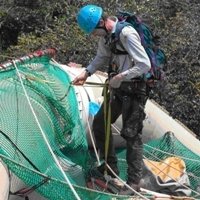 Friday, 14 December 2012
In a world-first study of its kind, a team of 102 international researchers has painted a picture of the richness of arthropod diversity in a tropical forest - and highlighted the complex co-dependencies between plants and animals.
Co-author Professor Raphael Didham of The University of Western Australia's School of Animal Biology and CSIRO Ecosystem Sciences said the study, published in Science today, was undertaken in the San Lorenzo forest in Panama and spans almost 10 years of field research and subsequent species identification by taxonomic experts across the world.
Over more than 24,000 person days, researchers combed about half a hectare from the forest floor to the top of the tree canopy, taking into account all microhabitats and plant species.  They identified almost 130,000 arthropods (the biggest class of animals, including insects, spiders, crustaceans, millipedes and centipedes) representing more than 6000 species.  From this they estimated that a single hectare of rainforest would be inhabited by an average of more than 25,000 species.
They found that even for carnivorous arthropods, plant diversity was a powerful predictor of total species richness because plants provide the habitat structure and food-web resources on which other species depend.
"The work is important because it is the first time researchers have examined arthropods of all kinds - not just selected groups of insects - and established the strength of their association with plant species diversity," Professor Didham said.
The researchers showed that the way in which arthropod species diversity scales up across geographic distance can be well predicted by the way plant species' diversity scales up over the same regions.  This means that by accurately establishing local biodiversity patterns and scaling up, global biodiversity can be estimated.
"We have shown that the broad scientific cooperation through which this study was achieved is an effective way to estimate biodiversity, and that conservation planning for biodiversity must take into account arthropod diversity," Professor Didham said.
Media references
Professor Raphael Didham (UWA School of Animal Biology)  (+61 8)  6488 1468
CSIRO Ecosystem Sciences  (+61 8)  9333 6762
Chris McKay (CSIRO Communications)  (+61 7)  3833 5728
Michael Sinclair-Jones (UWA Public Affairs)  (+61 8)  6488 3229  /  (+61 4) 00 700 783
Tags
Channels

Media Statements — Research — University News

Groups

Science Matters