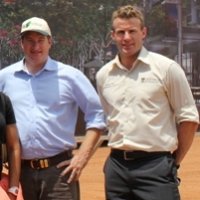 Thursday, 6 December 2012
The WA Government has announced funding of $675,000 for The University of Western Australia to conduct a feasibility study examining the potential of a UWA research, executive education and outreach facility in the Pilbara.
In a joint announcement this week, State Regional Development and Lands Minister Brendon Grylls and Education Minister Peter Collier said the Government's $50 million Royalties for Regions Pilbara Cities Education Partnership Fund would help underwrite the UWA Pilbara feasibility study.
"The State Government's Pilbara Cities vision will require new and innovative solutions to education and learning opportunities," Mr Grylls said.
"Growth in the tertiary sector is critical to attracting and retaining residential populations and supporting a diversified regional economy."
Mr Tim Shanahan, Director of UWA's Energy and Minerals Institute (EMI), said the feasibility study may prove the case for UWA facilities to help support region-specific research initiatives, collaborative partnerships with regional stakeholders and closer community engagement.
"UWA already has a strong research presence in the Pilbara and undertakes a range of activities across mining, energy, anthropology, archaeology, regional medical and health services, marine science and other areas of research," Mr Shanahan said.
An example is the Rural Clinical School of Western Australia (RCSWA) which hosts final-year medical students in the Pilbara and elsewhere in regional WA with the aim of producing more doctors for regional and remote areas.
The RCSWA partnership with Notre Dame University started in 2002 and has 13 offices throughout regional WA, including Karratha (since 2006), South Hedland and Broome, and would benefit from a centrally administered, multi-disciplinary facility in the region.
Media references
Nicola Holman (EMI Communications Coordinator)  (+61 8)  6488 7586  /  (+61 4) 19 716 311
Michael Sinclair-Jones (UWA Public Affairs)  (+61 8)  6488 3229  /  (+61 4) 00 700 783
Tags
Channels

Events — Media Statements — University News

Groups

ECM Faculty Focus — Energy and Minerals Institute — Faculty of Engineering and Mathematical Sciences — Faculty of Health and Medical Sciences