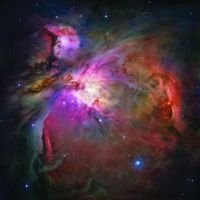 Thursday, 11 October 2012
The Square Kilometre Array is global science's biggest project and UWA's Vice-Chancellor says it is already having a transformative effect on Western Australia. "Australia's success in the SKA project should not be underestimated," says Professor Paul Johnson. "This project has the potential to inspire a nation and excite future generations of scientists."
The Murchison spans some 50,000 kilometres of Western Australia and is often described as 'the only shire without a town in Australia'. What the region does have, apart from some 29 cattle and sheep stations, is a population density of one person for every 350 square kilometres.
While that could well eliminate the Murchison as a candidate for a major international development, the region has a prime and rare asset – radio quietness – that makes its deserted expanse an ideal location to build the world's most powerful radio telescope, the Square Kilometre Array (SKA).
The May announcement in Amsterdam by the multinational SKA Organisation that two continental contenders to accommodate the radio telescope – Australia and South Africa – would share the massive project stirred interest well beyond the nations (including the United Kingdom, China, The Netherlands, Canada, New Zealand and Italy) that are collaborating on what is acknowledged as the world's biggest global science project.
UWA's Professor Peter Quinn, Director of the International Centre for Radio Astronomy Research (ICRAR), hailed the announcement of the win-win decision as the launch of a new era in astronomy. The SKA will take astronomers into totally uncharted cosmic territory, creating a single deep-space listening device that will enable scientists to produce superbly detailed maps of the Universe.
Professor Quinn says that SKA will also allow scientists to 'journey back through time' to study the Big Bang, to test yet again Einstein's theory of general relativity, to understand one of 21st century astronomy's big dilemmas – that 'dark matter' appears to hold the Universe together while 'dark energy' is pulling it apart – and to explore that most tantalising of notions: that there could be life on distant planets.
Deputy Director of ICRAR, Professor Lister Staveley-Smith (a Premier's Fellow and Professor of Physics at UWA) says that building a large array of telescopes rather than one of the 'big dishes' (such as the CSIRO's Parkes telescope and the Green Bank telescope in the United States) has much to do with costs of building and operating given the fact that they can only 'see' a small part of the sky at any one time.
Big dishes also suffer from 'blurred vision' and the proliferation of mobile phones, wireless, TV transmissions and other communications has meant that many iconic radio telescopes are often confined to observing within very narrowly confined frequency bands.
"Such telescopes are not ideal for making deep images of large areas of the sky," Professor Staveley-Smith says, "so to get around some of these problems, the international scientific community wants to use new array technology at a site free of radio frequency interference.
"The vast collecting area of the SKA will allow radio astronomers to study in detail in and around the most distant galaxies and to study, in exquisite detail, some of the most exotic objects in our own Milky Way. The study of distant galaxies is like time travel, for these galaxies are being seen as they were billions of years ago."
What excites both Professor Staveley-Smith and Professor Quinn is the fact that this SKA quest to understand the workings of our Universe will undoubtedly throw up discoveries and pose questions that have not yet been asked.
The SKA will be 50 times more sensitive and 10,000 times more capable than any other radio telescope in the world, they say. Whereas the technology available today allows us to look through a keyhole, scientists believe that the SKA will allow us to open a door to the Universe.
And there will undoubtedly be spin-offs not necessarily related to astronomy.
"Large science projects invariably produce significant collateral returns to humankind," says Professor Quinn. "Think the Large Hadron Collider in Geneva that led to the invention of the web; think the CSIRO scientists who used radio astronomy to produce the Wireless LAN invention now used around the world as Wi-Fi
"These are technologies and ideas that emerged from being involved in large science projects and I'm confident a project of the scale of SKA will generate similar big ideas.
"The SKA offers great opportunities for science, engineering and industry to work together to solve the challenges this project will produce. One will be managing the prodigious amount of data produced – as much in a day as the entire planet produces in a year – and we will be working with industry on this, because the telescopes in both Australia and South Africa will be linked to the world's biggest computers.
"At present eight countries are involved in the project but I suspect that eventually up to 20 will sign up in order to have access to the telescopes. There will be a hub in Perth and a hub in Cape Town, and from these data hubs information will go to astronomers around the world."
Professor Quinn says that although astronomy and cosmology have made incredible advances since Galileo turned his telescope to the sky in the 16th century, astronomers remain mystified by the more than 90 per cent of the Universe.
Unsurprisingly, exploration on such a scale brings with it an astronomical price tag, which is why nations club together to fund such projects.
"Astronomy has always had the power to excite people and when talking 'big science' like the SKA we're talking about a global effort. A budget of $2 billion demands international collaboration," says Professor Quinn.
"With global enterprises as big as this, there are always challenges in terms of getting people and governments working together, in different time zones and on different continents.
"On the positive side, scientists are very good at these large-scale collaborations, and astronomy – by its nature – is characterised by international collaborations, because we're all looking at different parts of sky from different parts of the world."
By the time the May announcement was made, ICRAR (a joint UWA/Curtin venture) had already embarked on its SKA journey, through involvement with two major telescopes under construction – the 36-dish SKA Pathfinder and the Murchison Widefield Array.
Born in 2009 with $20 million from the State Government, ICRAR now has 70 staff and 35 graduate students. Australia had already invested more than $400 million in the lead-up to the SKA decision.
Professor Quinn says that splitting the SKA closely follows the format of other major observatories around the world that work together. It also plays to the strengths of each country's site, relying on Australian expertise already developed during the design and construction of the Murchison instruments.
"ICRAR is at the right place at the right time," he says. "We have the skills and capacities."
The low and middle-frequency components of the SKA to be deployed at the Murchison Radioastronomy Observatory (MRO) will concentrate on surveying large portions of the sky quickly (a particular strength of Australian astronomy) while South Africa uses high-frequency dishes designed to observe smaller sections of the sky in greater detail.
Earlier this year Australia moved a step closer to the top ranks of global supercomputing when a powerful new supercomputer was installed at UWA this was part of a Federal Government program to provide super-fast computing in anticipation of the SKA's demands. It gives astronomers unprecedented access to high-powered, data-intensive computing, particularly for astronomy signal processing.
Based at the [email protected] facility and managed by a joint venture of CSIRO and four WA universities, the supercomputer will be joined next year by an even faster supercomputer housed in the Pawsey Centre next to the CSIRO Australian Resources Research Centre.
UWA Vice-Chancellor Professor Paul Johnson says the addition of these two supercomputers gives Perth unique capabilities.
"We now have an important new tool for scientific discovery that will help radio astronomers reach deeper into space than ever before," he says.
At an SKA Celebration in the ballroom of Government House in Perth, the Vice-Chancellor said the substantial Federal and State Government investment in the SKA had already had a transformative effect on Western Australia.
"Australia's success in the SKA project should not be underestimated," he said. "This project has the potential to inspire a nation, excite future generations of scientists and to forge further collaborations."
The enthusiasm of scientists and postdoctoral researchers at ICRAR is infectious and is stirring public interest in dark matter, black holes and the birth of galaxies.
"The technical challenges posed by SKA are still in front of us," says Professor Quinn. "Because we are working at the frontiers of science, we don't yet know how to build all the technologies or to solve all the technological problems posed by the SKA. There will be a lot of opportunities for those with skills in science, engineering and information technology. We will need to bring a lot of bright young minds on board."
ICRAR scientists regularly visit schools and invite science teachers and students to UWA. The University's science education enrichment program, SPICE, has already held 15 SPIRIT telescope workshops involving 80 teachers, and another four are planned over the next few months: two for students and two for teachers.
In July last year UWA signed an agreement with Hawaiian Pty Ltd that will enable many more Education Department schools in WA to benefit from the successful SPIRIT program that showcases science. Program Manager Paul Luckas at UWA's Centre for Learning Technology, says that no matter how remote their school, students will be able to use their home computers at night and take their own images. "All they need is the Internet to access two powerful telescopes: SPIRIT I and II on the roof of the Physics building at UWA," he says.
SPICE is holding a professional development day for teachers on 29 November that will focus on Physics and will provide an SKA update. For more information visit the SPICE website
Last year, UWA, ICRAR and Scitech joined forces to take several UWA Aspire to Astronomy teams to the Pilbara to inform high school students about the exciting possibilities of a career in astronomy.
Another ICRAR community outreach initiative, Guerrilla Astronomy, sees UWA astronomers, members of the Astronomical Group of WA and the Geraldton Astronomy Group sharing their enthusiasm with locals. Armed with telescopes, the team sets up in areas such as the South Perth foreshore to discuss the night sky, SKA, and a lot more. If you want to participate in this and other public events, visit the SKA website.
When he launched the Western Australian Space Centre (WASC) in May, the Minister for Science and Innovation John Day said the State's Mid West and Gascoyne regions are emerging as space industry hotspots, with several countries expressing interest in locating Earth space tracking and communication facilities at the WASC site.
"Western Australia has long been a prime site for space-related facilities due to our geographical location; vast radio-quiet zones; strong technical expertise; supportive infrastructure; and welldeveloped trade, science and defence relationships," the Minister said.
Published in Uniview Vol. 31 No. 3 Spring 2012
Tags
Groups

Uniview