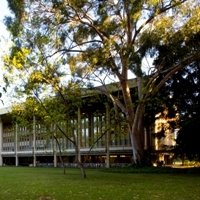 Friday, 27 July 2012
Using plants to discover new drugs, digital technologies to transfer Indigenous knowledge, and molecules to build digital memory are just some of the projects at The University of Western Australia that attracted more than $4.5 million in raw funding from the Australian Research Council Future Fellowships scheme.
Six new UWA Future Fellows were announced this week.
Associate Professor John Bamberg, of UWA's Centre for the Mathematics of Symmetry and Computation, will strengthen existing knowledge of finite geometry and algebraic combinatorics for use in information security, experimental design and efficient communication.
Professor Evgeny Buchbinder , a physicist, will join UWA from Imperial College in London.  Her research is in string theory/gravity duality and string phenomenology and her project aims to find a deeper interplay between string theory and observable particle physics.  String theory posits hidden dimensions in space and research in this field is conducted at the Large Hadron Collider in Switzerland.
Professor James Leach , from the University of Aberdeen, will work with UWA's Cultural Precinct, discipline of Anthropology and Berndt Museum to investigate the value of old and new knowledge, and the possibilities of new digital technologies to enhance their accessibility, transfer and use.
Professor Ryan Lister , the University's new Winthrop Professor of Computational Systems Biology, is an expert in the use of advanced DNA sequencing technologies and computational biology to understand how complex biological systems work.  His project aims to understand the information encoded in the epigenome and how it changes in development and environmental stress, enabling manipulation of its function in crops and correction of its dysfunction in disease.
Professor Paul Low , from the University of Durham, is a molecular scientist whose UWA project will target some of the challenges in realising molecular electronics technology for ultradense and ultrafast computation. He will design molecular-based components for solid-state applications such as molecular-based memory.
Associate Professor Joshua Mylne , from the University of Queensland, is a biochemist and plant geneticist whose project at UWA will involve cross-disciplinary work to provide a creative approach to drug discovery and design by dissecting plant protein evolution.
UWA Vice-Chancellor, Professor Paul Johnson, said these highly talented researchers in emerging fields would make noteworthy contributions to global knowledge.
Media references
Janine MacDonald (UWA Public Affairs)  (+61 8)  6488 5563  /  (+61 4) 32 637 716
Tags
Channels

Appointments — Arts and Culture — Awards and Prizes — Business and Industry — International — Media Statements — Research — University News

Groups

Arts — Faculty of Engineering and Mathematical Sciences — Science Matters