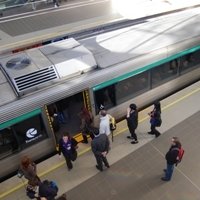 Friday, 29 June 2012
It is unlikely that brothels and sex workers will be completely moved from the suburbs and confined to designated spaces such as industrial estates, according to a planning researcher at The University of Western Australia.
In a paper presented to the Fifth State of Australian Cities Conference recently, Dr Paul Maginn discussed the politics and planning regulations of brothels in Perth and throughout Western Australia in relation to a revised Prostitution Bill currently before Parliament.
Dr Maginn researched the role of politics and planning in regulating brothels and said his findings throw doubt on the effectiveness of legislation designed to prohibit prostitution/sex work.
Sex work and disabilities will be the topics for conversation at a Question and Answer hosted by Dr Maginn following a screening of the documentary, Scarlet Road (the Director's Cut) which tells the story of Australian sex worker Rachel Wotton and her clients with disability.
The screening will be hosted by Dr Maginn of UWA's School of Earth and Environment, and the WA Sexology Society.
Dr Paul Maginn, Program Co-ordinator for Urban and Regional Planning at UWA, and Dr Gareth Merriman of the WA Sexology Society will join Rachel Wotton to answer questions from the audience afterwards.
"We are screening this documentary to raise public awareness and generate informed discussion about the realities of sexual citizenship, sex work and the regulation of the sex industry given that the Prostitution Bill is currently going through the WA Parliament," Dr Maginn said.
Rachel Wotton said she hoped Scarlet Road would open peoples' minds and address some of the myths and stigmas surrounding both people with disability and sex workers.
Proceeds of all ticket sales will be donated to Touching Base Inc and The Fred Hollows Foundation .
WHAT: Scarlet Road (Directors Cut) + Q&A sessions with Rachel Wotton, Dr Paul Maginn (UWA) and Dr Gareth Merriman (WASS)
WHEN: Monday 9 July 5.30pm to 8.30pm
WHERE: Woolnough Lecture Theatre
Geology and Geography, UWA, 35 Stirling Highway, Crawley
Media are asked to advise Dr Maginn if they wish to attend.
Media references
Dr Paul Maginn (School of Earth and Environment)  (+61 8)  6488 2711  /  (+61 4) 21 545 190
Janine MacDonald (UWA Public Affairs)  (+61 8)  6488 5563  /  (+61 4) 32 637 716
Tags
Channels

Arts and Culture — Business and Industry — Media Statements — Research — University News

Groups

Science Matters