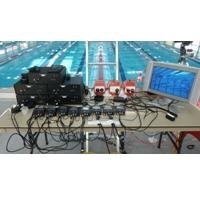 Tuesday, 26 June 2012
With less than five weeks to go until the London Olympic Games, researchers at The University of Western Australia have been analysing Australian swimmers' movement patterns in a bid to give them an edge over their international opponents.
Winthrop Professor Mohammed Bennamoun, from UWA's School of Computer Science and Software Engineering, said technological innovation in sport science played an important role in the effective preparation of Australian athletes.
"Every Olympic gold medal won by an Australian athlete is worth an estimated $50 million to the Australian economy," he said.  "We're really excited about this opportunity to play a part in ensuring our elite athletes continue to achieve sporting success while consolidating Australia's leading role in world-class technologies."
UWA's research project uses the latest 3D imaging and biomechanical techniques to quantify swimmers' movement patterns.
"Currently there is no 3D motion analysis system that can do this accurately and reliably in an aquatic environment," Professor Bennamoun said.
"The ability to quantify the movement patterns of elite swimmers is essential in monitoring technique changes and forms a critical input into methodologies used to determine mechanisms of propulsion in water.
"Our project will further develop these 3D analysis techniques and provide us with the technical knowledge that has previously been lacking."
Professor Bennamoun said researchers travelled to Canberra in May to analyse 31 Olympic swim team members and Australian Institute of Sport elite swimmers, including Eamon Sullivan, Geoff Huegill, Mitchell Patterson and brothers Matthew and Andrew Abood.
The first stage of analysis involved a 3D body scan of the swimmers  before using 17 cameras, both above and below water, to capture the swimmers' movements.
"Computational fluid dynamics and computer vision techniques are used to develop this program, which can help correct the swimmers' techniques," Professor Bennamoun said.
The project's chief investigators are Professor Bennamoun, Associate Professor Jacqueline Alderson from UWA's School of Sport Science, Exercise and Health, and biomechanist Dr Andrew Lyttle, from the Western Australian Institute of Sport.
The UWA team includes Assistant Professor Amar El-Sallam and research fellow Dr Ferdous Sohel.  Swimming Australia and the Australian Swimming Coaches and Teachers Association are also partners in the project, which received $300,000 over three years through an Australian Research Council Linkage grant.
Media references
Winthrop Professor Mohammed Bennamoun (UWA School of Computer  (+61 8)  6488 2715
Science and Software Engineering)
Michael Sinclair-Jones (UWA Public Affairs)  (+61 8)  6488 3229  /  (+61 4) 00 700 783
Tags
Channels

Media Statements — Research — University News

Groups

School of Computer Science and Software Engineering