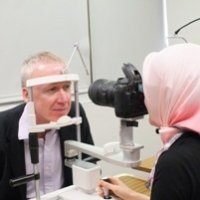 Friday, 18 May 2012
As little girls, my sister was always pleading with me to come out and play tennis or ride bikes with her. But all I wanted to do was to stay inside and read.
"And that's why you have such thick lenses in your glasses today," said Winthrop Professor David Mackey, Managing Director of the Centre for Ophthalmology and Visual Science (incorporating the Lions Eye Institute).
The latest research on myopia, or shortsightedness, shows a direct link between time spent outdoors as a child and the condition that has hundreds of millions of people around the world wearing spectacles.
Professor Mackey has recently been part of the first international review of all the literature over the past five years. While still considered 'new' research, nearly 10,000 children and young adults up to the age of 22 have been involved in studies by academics including Dr Kathy Rose and Dr Paul Mitchell from the University of Sydney.
The review found a wide variation in the prevalence of myopia worldwide. It exceeds 80 per cent in some populations in east Asia. "Myopia carries major social, educational and economic consequences and impacts adversely on quality of life," reads the review. "High myopia is associated with an increased risk of degenerative retinal conditions and retinal detachment, glaucoma and early-onset cataracts, all of which pose a substantial lifetime risk of visual impairment and blindness.
"Overall findings indicate that increasing time spent outdoors may be a simple strategy by which to reduce the risk of developing myopia and its progression in children and adolescents."
Professor Mackey says it is, of course, not the whole story. "Some people are genetically predisposed to myopia, so we need to work out who's at risk and formulate personalised health messages, rather than just tell everybody to go outside more.
"It's the Goldilocks porridge story: not enough time outside will mean you're more likely to be shortsighted and at risk of all the associated problems; too much sun can result in eye damage, leading to pterygium."
The research puts medical practitioners in a position similar to the sunshine debate over Vitamin D (to prevent osteoporosis) versus skin cancer from too much exposure.
After several studies had demonstrated the inverse association between outdoor activity and myopia, Professor Mackey and his colleagues began using conjunctival ultraviolet autofluorescence (UVA F) photography, a reliable method of assessing ocular sun exposure, to investigate the relationship. This system was developed by Professor Minas Coroneo from the University of New South Wales.
They studied 1,231 young adults, aged 19 to 22 from WA's Raine Cohort. Parental history of myopia, time spent outdoors and educational activity were assessed from a questionnaire.
The group has also used subjects from the Norfolk Island Eye Study and the national Twin Study, comparing sets of twins in Tasmania and Queensland.
The Raine and Twin studies are the largest studies of UVA F in Australia. "Nobody else in the world is doing this," Professor Mackey said.
The UVA F photography showed more evidence of sun damage to the participants' eyes was inversely proportional to incidence of myopia. The subjects identified as shortsighted generally had less sun damage to their eyes.
"People used to think that 'nerdy' kids, spending their time indoors reading, instead of being active outside, became myopic. But it's not the reading, it's the lack of time spent outdoors that is at the root of the problem," he said.
The Vice-Chancellor Winthrop Professor Paul Johnson, who spent his childhood in England, had his eyes photographed recently during a visit to the Lions Eye Institute. Professor Johnson is shortsighted and, as expected, showed no sign of UV damage.
"In many Asian cities, the children are all inside studying. When they do go outdoors, the pollution blocks a lot of the UV rays, so those populations in Asia have an enormous proportion of shortsighted people. In Singapore and Guangzhou in China, schools are now sending their children outside for an hour a day, to help prevent them developing myopia. But there are no results yet from this initiative."
Professor Mackey and his colleagues' research is of particular importance given the increasing prevalence of myopia worldwide.
Published in UWA News , 14 May 2012
Tags
Groups

UWA Forward