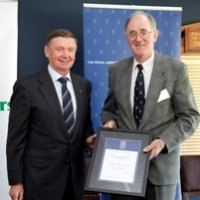 Thursday, 10 May 2012
Senior Honorary Animal Biology Research Fellow Emeritus Professor David Lindsay has been honoured for his inspiring influence on WA's agricultural industry with induction this week into Western Australia's Agricultural Hall of Fame.
Professor Lindsay spent 33 years as a teacher and researcher at The University of Western Australia - much of that time as Dean of Agriculture and Professor of Animal Science.
His research input has helped combat practical problems associated with poor fertility and survival in the State's sheep industry, and his research group has become the focus for international research in the field of reproductive physiology.
He also led research into the use of the fodder shrub Tagasaste to rejuvenate thousands of hectares of infertile sands in the West Midlands.
Professor Lindsay's work has done much to bridge the gap between science and practical sheep farming throughout Australia.
In particular, Professor Lindsay stressed to his colleagues and students the importance of clear and accurate communication and did much to bridge the gap between science and practical sheep farming not just in WA but also throughout Australia.
These skills led to his chairing forums including the Lindsay Review of the Australian Quarantine System, a review of the Western Australian Meat Marketing Corporation and reviews of Australian and overseas projects.
Professor Lindsay had his own 800-head Merino stud until 2011 and in 2008 sold the finest bale of Merino wool ever produced in WA.  He is currently works as a consultant, teaching others how to write scientific papers.
The President of the Royal Agricultural Society of WA, Hugh Hardy, said each year the Hall of Fame offers the perfect opportunity to showcase those who make an important difference to the rural community.
"It is always a pleasure to highlight West Australians who have led by example and achieved agricultural success over and above what is expected of them in society," he said.  "These pioneers within the rural sector have not only had a significant impact on the agricultural industry but also helped WA to prosper."
The Agricultural Hall of Fame was established in 1999 under the auspices of The Royal Agricultural Society of Western Australia and pays tribute to men and women who have had a significant impact on the present and future of agriculture, and shaped its history.
Media references
Michael Sinclair-Jones (UWA Public Affairs)  (+61 8)  6488 3229  /  (+61 4) 00 700 783
Tags
Channels

Awards and Prizes — Media Statements — University News

Groups

Science Matters — Sustainable Initiatives — UWA Institute of Agriculture