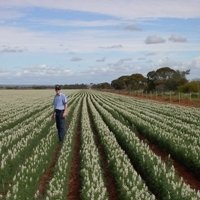 Monday, 26 March 2012
Ancient Romans thought lupin seed was fit only for wolves to eat, which may be why the Latin word for wolf­ - lupus ­- sounds so similar.
However, since Rome pooh-poohed lupins, many cultures have eaten lupins enthusiastically - and researchers at The University of Western Australia hope even more people will eat them to help reduce a global epidemic of diabetes and obesity.
Scientists regard lupin seed as a valuable human health food to help reduce blood pressure and cardiovascular disease.
UWA is involved in a three-year 'Lupin Challenge' project in collaboration with UWA-affiliate the WA Institute for Medical Research (WAIMR), CSIRO Plant Industry, the University of Sydney and science organisations in Spain to focus on the health benefits of lupin seed.
As a major part of the project, the European Union has awarded a prestigious Marie Curie post-doctoral fellowship to Dr Jose Jimenez Lopez to spend two years in the laboratory of Winthrop Research Professor Karam Singh of UWA's Institute of Agriculture and CSIRO Plant Industry, a world leader in lupin genomics.
Professor Singh's group belongs to the WA Centre for Food and Genomic Medicine (CFGM).  CFGM researchers have shown that lupin seed contains high protein and dietary fibre.
Food enriched with lupin seed makes people feel full for longer and reduces their hunger.  CFGM research and work by international groups has shown that diets supplemented with lupin grain may play an important role in treating type 2 diabetes, particularly in overweight and obese people.
It is estimated that 285 million people suffer from diabetes.  As more adults and children become overweight, this is expected to grow to 438 million by 2030.  The direct and indirect costs of diabetes to society will overtake the cost of cancer and heart disease by 2020.
The project also includes UWA's Professor Grant Morahan, an international expert in complex genetic analyses of diabetes and obesity and Head of WAIMR's Centre for Diabetes Research; and lupin physiology research pioneer Emeritus Professor Craig Atkins, of UWA's School of Plant Biology.
The international, multi-disciplinary approach will increase knowledge of how lupins may be able to help treat diabetes and obesity, and also assist lupin-related food allergy research.
Media references
Winthrop Research Professor Karam Singh (UWA Institute of Agriculture and CSIRO)  (+61 8)  9333 6320
Michael Sinclair-Jones (UWA Public Affairs)  (+61 8)  6488 3229  /  (+61 4) 00 700 783
Tags
Channels

Arts and Culture — Business and Industry — International — Media Statements — Research — University News

Groups

Science Matters — UWA Institute of Agriculture