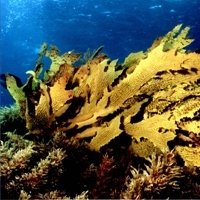 Tuesday, 20 March 2012
To many people, seaweed is something that washes up on beaches and gathers in ugly, smelly piles.
Few realise that seaweeds play a key role - directly and indirectly - in tourism, boating, scuba diving, fishing, crayfishing, abalone-collecting and other marine activities, according to Associate Professor Thomas Wernberg of The University of Western Australia.
"The term 'ecosystem services' describes the role the natural environment plays in sustaining human economies," he said.  "Even people who don't go to the beach but who eat fish and chips benefit from seaweeds such as kelps."
Associate Professor Wernberg is an Australian Research Council Future Fellow at the UWA Oceans Institute.  He is studying the impact of climate change on vast kelp beds that underpin marine environments in much of Australia's temperate coastal zone, where most of our major cities are located.
Large seaweeds such as kelps are particularly important because they provide food, shelter and habitat for myriads of associated species of flora and fauna.  In Australia, New Zealand and South Africa, the kelp Ecklonia radiata is one of the largest and most ubiquitous habitat-forming species, and provides substantial ecosystem services.  However, this is at risk from climate change because kelps are cool-water species.
"In WA, kelp beds are bathed by the southerly flowing Leeuwin current which brings warm water down the coast to create an even, temperate gradient.  This provides a perfect natural laboratory to study how kelps perform under different temperature conditions," Associate Professor Wernberg said.
"I have teamed with collaborators around Australia to look at how temperature increases might change seaweed growth patterns.  For example, scientists already know that reproduction in some land plants is now occurring earlier but nobody knows much about what is happening with seaweeds.  We will be studying contemporary seaweed populations and also try to reconstruct changes over around the past 100 years by looking at old herbarium specimens."
Associate Professor Wernberg said Australia would have a far better chance of conserving seaweed beds and critical ecosystem services if it was known in advance what effect climate change might have on them.
Media references
Associate Professor Thomas Wernberg (UWA Oceans Institute)  (+61 8)  6369 4047
Michael Sinclair-Jones (UWA Public Affairs)  (+61 8)  6488 3229  /  (+61 4) 00 700 783
Tags
Channels

Business and Industry — Media Statements — Research — University News

Groups

Oceans Institute