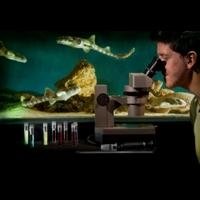 Monday, 19 March 2012
An eye-catching film made by ocean researcher Ryan Kempster from The University of Western Australia on the unique survival skills of bamboo sharks has been selected to be shown at a prestigious US film festival.
The movie includes extraordinary vision of Ryan's research involving a shark foetus sensing a would-be predator before closing down its heartbeat and lying perfectly still to avoid detection.
Ryan, a shark biologist with UWA's Oceans Institute and School of Animal Biology, said bamboo shark embryos were vulnerable to predators because they developed over several months in an egg case outside their mother's body.
His research showed how even before birth, bamboo shark embryos could use unique electro-sensitive pores in their heads to detect very faint bio-electrical signals emitted by other animals and would-be predators.
Ryan said his research could help increase understanding of how sharks responded to electrical fields.
"It might help us to develop better shark-repellent devices such as those worn by scuba divers and surfers," he said.
Ryan's three-minute film, Survival of the Stillest: Bamboo Sharks , will be screened at the Beneath the Waves Film Festival in Norfolk, Virginia on March 23-24.
Film festival organisers said it was chosen from more than 70 others because it combined strong storytelling, research and conservation.
After an initial screening, the festival's films would be shown around the US and abroad.
Ryan said he was thrilled his film would enable people on the other side of the world to learn more about the unique attributes of sharks and the need to protect them.
"It is such a great opportunity to share with others the very exciting research I am working on and hopefully it may generate some valuable collaborations with fellow researchers in the States," Ryan said.
Caption: Shark researcher and filmmaker Ryan Kempster with juvenile bamboo sharks in the background. (Image:  UWA/Paul Ricketts)
Media references
Ryan Kempster (UWA Oceans Institute/School of Animal Biology)  (+61 4) 33 267 433
Tony Malkovic (on behalf of UWA Oceans Institute)  (+61 4) 11 103 398
Michael Sinclair-Jones (UWA Public Affairs)  (+61 8)  6488 3229  /  (+61 4) 00 700 783
Tags
Channels

Media Statements — Research — University News

Groups

Oceans Institute — Science Matters