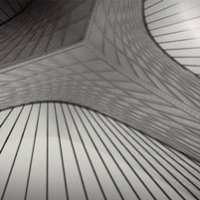 Monday, 5 March 2012
Imagine walking inside a beautiful cathedral that exists only in virtual space or inspecting a 3D display home from every angle on a smart phone or digital tablet in the comfort of your home or office.
Architectural students at The University of Western Australia are working on harnessing stunning new digital technology that will enable you to do just that - and the results may change the way we see the world.
All you need to do is point a smart phone or tablet at a photograph or some text, and a 3D image will appear on your screen.  Then by tilting or rotating your device the image moves so you can virtually walk around it or look inside.
It's called augmented reality, and UWA Assistant Professor Rene Van Meeuwen and a team of 5 th -year architecture students have used it to create a stunning new exhibition at the Cullity Gallery in UWA's Faculty of Architecture, Landscape and Visual Arts.
The "Unbuilt Perth" exhibition opened today and features 3D animations of 40 impressive architectural designs which, for various reasons, were never built.
The most strikingly beautiful of these is the Nervi Cathedral, a soaring edifice that won accolades in New York and Italy after being commissioned in 1958 by WA's Benedictine monks to be built at New Norcia, 132km north of Perth.
Pier Luigi Nervi (1891-1979) was a celebrated Italian modernist and architect whose brief to "safeguard and harmonise liturgical and artistic values" in a futuristic three-pronged parabolic design now comes to life in augmented reality at the Cullity Gallery.
"Nervi's work was both sensational and obscure," said Assistant Professor Van Meeuwen who teaches advanced computing as a 5th-year elective for students completing a Master's Degree in Architecture.
"The cathedral was designed to hold more than 1800 people and caused an architectural sensation in Australia, yet it was commissioned to be built in an arid landscape on WA's remote Victoria Plains."
Assistant Professor Van Meeuwen said computational teaching allowed students to enact research and learning through data which would otherwise be redundant.
"The software allows us to bring the architecture to life," he said.
"The Nervi Cathedral has been an amazing discovery of a building that was about to be lost to time.  The students have literally resurrected it for the future."
Assistant Professor Van Meeuwen said a fascinating essay - written by local architectural historian Dr Annette Condello - about the Nervi Cathedral's direct links to the Vatican appears in the exhibition catalogue.
UWA, in conjunction with augmented reality spin-off company felix and other sponsors, will display student-produced videos (www.unbuiltperth.com) and augmented reality models of Unbuilt Perth at the Cullity Gallery from March 5-16. The Cullity Gallery is at UWA's Nedlands campus on Clifton Street, north of Stirling Highway.
"Visitors with smart phones or tablets will be able to interact with 3D augmented reality buildings by downloading a free Aurasma Lite app to their hand-held devices and viewing the virtual displays from every angle," Assistant Professor Van Meeuwen said.
Media references
Assistant Professor Rene Van Meeuwen (Architecture, Landscape and Visual Arts)  (+61 8)  6488 1555
Laura Radovan (Faculty Communications Officer)  (+61 8)  6488 1859
Michael Sinclair-Jones (UWA Public Affairs)  (+61 8)  6488 3229  /  (+61 4) 00 700 783
Tags
Channels

Events — Media Statements — Research — University News

Groups

School of Design