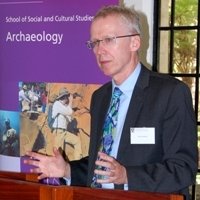 Monday, 27 February 2012
A gift of $1.5 million to support significant research into Kimberley Rock Art at The University of Western Australia will advance the understanding of the Indigenous cultural heritage of Western Australia's far north.
The Kimberley Foundation Ian Potter Chair in Rock Art will be established with the gift from Melbourne-based not-for-profit organisation, the Kimberley Foundation Australia (KFA).
The partnership between the Foundation and the University was formalised this week.  The partners will endeavour to raise a further $500,000 through philanthropy and the University will provide matching funding of up to $2m to provide a total of $4 million to fund the chair on an on-going basis.  The Ian Potter Foundation, a long-term supporter of KFA's research has contributed to the project.
The gift will support long term research into the nature and context of the Kimberley's ancient treasures.  Researchers, working in partnership with traditional custodians, will study and record rock art and will educate students and the broader community about the value of the Kimberley's rich cultural heritage.
UWA Vice-Chancellor Professor Paul Johnson said the Kimberley Foundation Ian Potter Chair in Rock Art - in UWA's Centre for Rock Art Studies - would significantly advance the global knowledge and recognition of the rock art.
"We have priceless Indigenous rock art in Western Australia and leading researchers in the field at our University," he said.  "The research to be conducted with this funding will enhance our knowledge of Kimberley Rock Art and provide a legacy that will be appreciated around the world."
"The establishment of a Chair in Kimberley Rock Art is a remarkable achievement for KFA and a tremendous opportunity to expand studies in palaeoecology, palynology, archaeology, paleolinguistics and geochronology of the Kimberley region," said KFA Chairman Maria Myers.
"Researching the Kimberley to increase our knowledge of the earliest Australian people, their art and cultures and their relationship with a changing environment is critical to understanding the rock art and its national and international significance," she said.
CEO of the Kimberley Foundation, Cas Bennetto, said KFA will continue to raise funds for its research program, notably studies in dating the rock art and mapping and recording rock art project involving local aboriginal communities.
The KFA and UWA acknowledge the support of The Ian Potter Foundation in establishing the Kimberley Foundation Ian Potter Chair in Rock Art, and a State Government contribution of $300,000 to the study of Kimberley rock art pledged by WA Premier Colin Barnett in late 2010.
Media references
Cas Bennetto , CEO Kimberley Foundation Australia  (+61 3)  9653 3780  /  (+61 4) 18 410 072
Michael Sinclair-Jones (UWA Public Affairs)  (+61 8)  6488 3229  /  (+61 4) 00 700 783
Tags
Channels

Arts and Culture — Events — Media Statements — Research — University News

Groups

Arts — Centre for Rock Art Research and Management — Energy and Minerals Institute — School of Indigenous Studies