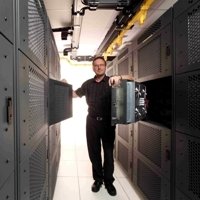 Tuesday, 7 February 2012
A powerful new supercomputer 10,000 times faster than an average office computer and big enough to store 2000 years of iTunes music has been successfully installed at The University of Western Australia.
Called "Fornax" - Latin for "hot furnace" and named after a southern hemisphere constellation known as a birthplace of stars - the UWA installation consists of 96 nodes, each containing two Intel 6-core Xeon X5650 processors, a high-end GPU and 48GB of RAM.
It forms part of the Pawsey* project, an $80 million Federal Government program to help bolster Australia's bid to build the world's biggest radio telescope - the Square Kilometre Array (SKA) - in Western Australia, and make Perth one of the world's top 20 supercomputing centres by 2013.
UWA, the CSIRO and three other WA public universities are partners in a joint venture called iVEC to provide advanced computing services to scientists, industry and government.
The director of UWA's iVEC Centre, Associate Professor Paul Bourke, said Fornax would give researchers unprecedented access to high-powered, data-intensive computing, particularly for astronomy signal processing (including the SKA) and geoscience research.
He said Fornax had a theoretical performance of more than 50 TFlops - equivalent to 10,000 office desktop computers - and 500TB global file storage plus 7TB of local disk space in each of the 96 nodes, big enough to store 2000 years of iTunes music.
Fornax is installed at the [email protected] Centre in UWA's Physics Building.
Professor Bourke said it would help Perth gain a unique capability in Australian computing history in 2013 with the installation of a new iVEC petascale supercomputer - significantly faster than Fornax - to be housed in the Pawsey Centre next to the CSIRO Australian Resources Research Centre in Kensington.
The Vice-Chancellor of The University of Western Australia, Professor Paul Johnson, said the new Fornax installation at UWA would help move Australia a step closer to the top ranks of global supercomputing.
"I am very pleased UWA has an important new tool of scientific discovery to help radio astronomers reach deeper into Space than ever before and boost international geoscience research in vital areas such as the environment and climate change," Professor Johnson said.
* Dr Joseph Pawsey was an Australian radio astronomer pioneer who discovered the Sun's temperature to be one million degrees, much higher than previously thought possible.
Media references
Associate Professor Paul Bourke (Director, [email protected])  (+61 8)  6488 8097
Michael Sinclair-Jones (UWA Public Affairs)  (+61 8)  6488 3229  /  (+61 4) 00 700 783
Tags
Channels

Events — Media Statements — Research — University News

Groups

International Centre for Radio Astronomy Research — School of Computer Science and Software Engineering — School of Physics