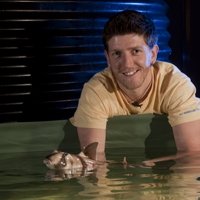 Thursday, 15 December 2011
Lots of teenagers dream of a career in science – doctor, vet and marine biologist are often high on the list – but many consider it out of their reach.
Ryan Kempster just might be able to help them realise those dreams.
Ryan has been invited to join UWA's Travelling Scientist Program, which takes inspiring young PhD students to remote and regional WA high schools, to encourage the students to consider a career in science.
Travelling scientists explain their research in a fun and engaging way, talk about how they became a scientist, and essentially open up new study and career options that students may never have considered.
"We'll be talking about what we do as scientists but also how we got there in the first place," says Ryan, who studies marine neurobiology — in particular, the sensory system of sharks — at the Oceans Institute and School of Animal Biology.
"It's good for kids to know that it doesn't always have to be a linear path into a career – you can change your mind and explore lots of different areas along the way."
Ryan originally wanted to be a vet, he says, but now loves his work as a shark biologist and has even set up a popular shark conservation group, Support Our Sharks .
Inspiring kids
The Travelling Scientist Program was established by UWA's SPICE program and Science Futures Foundation in late 2009.
Associate Professor Jan Dook, who coordinates the program, says, "It's about inspiring kids to think about their options."
"Kids in the metropolitan area have easy access to events at the university, listening to talks and career advice," she says. "Kids in remote and regional areas don't have that.
"So we ask young, dynamic scientists to tell their own story, to get kids to consider something they probably have never thought about before."
Ryan proved his skills as a science communicator earlier this year when he claimed both top prize ($3000) and the people's choice award ($500) in UWA's Three Minute Thesis competition.
Ryan went on to compete in the international 3MT in late September, held at UWA's Octagon Theatre. He won his way into the final round, finishing in the Top 11 out of 42 speakers from Australia, New Zealand and Fiji.
Ryan will make his first trip to WA high schools as a Travelling Scientist in early 2012.
Media references
Beau Gamble (+61 4) 39 699 675
Ryan Kempster (+61 8) 6488 7507
Tags
Channels

Teaching and Learning

Groups

Oceans Institute