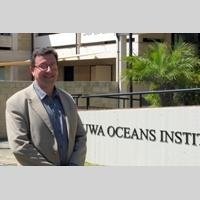 Friday, 4 November 2011
Marine life in the areas to the north of Australia and elsewhere along the Equator, as well as the waters off Australia's east coast, have emerged as being at particular risk from temperature changes due to climate change, according to a study published today in the international journal Science.
The researchers found that the velocity of climate change (a measure of the speed of temperature change, expressed in kilometres per decade of shift in temperature regimes) is pronounced in the biodiversity hotspot of the 'Coral Triangle' off Australia, which includes the waters of New Guinea, Indonesia and the Solomon Islands.
The paper's authors include Professor Carlos Duarte , the Director of the Oceans Institute at The University of Western Australia.  Professor Duarte is one of several Australian researchers among the 19 co-authors, with the lead researcher Dr Mike Burrows of the Scottish Association of Marine Science.
The researchers analysed global temperatures from 1960 to 2009 to determine the velocity of climate change on land and at sea over the past 50 years, which sets the pace at which marine life must shift their distribution to keep within the same temperature regime.
They also studied seasonal shifts, such as spring arriving earlier due to the effects of climate change.  Such changes mean that organisms have to move to areas where temperatures are conducive to their seasonal activities such as reproduction and migrations.
Professor Duarte said the challenge for marine organisms is to either move to areas so they remain within their temperature 'comfort zone', adapt to the new conditions, or face extinction.
"Marine organisms can shift their distribution to track the temperature regime they require, but can be left behind and forced to adapt when the velocity of climate change is too fast to cope, or where lands masses intersect the migration pathways," Professor Duarte said.  "This seems to be the situation in the Coral Triangle north of Australia, where temperature shifts are particularly fast and where the presence of Australia may interfere the displacement of biological ranges."
Professor Duarte said the researchers found that the marine organisms that move fastest to keep ahead of climate change include seabirds and zooplankton.
"The velocity of climate change is much faster in the Northern Hemisphere, and is particularly fast in the marine region north of Australia as well as the nation's east coast," Professor Duarte said.  "Climate change is slow in the marine region south of Australia and moderate off the west coast."
The study, ' The Pace of Shifting Climate in Marine and Terrestrial Ecosystems', is available online and in hard copy.
Media references
Professor Carlos M. Duarte (+61 8)  6488 8116  /  (+61 4) 27 133 066
Tony Malkovic (on behalf of UWA Oceans Institute)  (+61 4) 11 103 398
Michael Sinclair-Jones (UWA Public Affairs)  (+61 8)  6488 3229  /  (+61 4) 00 700 783
Tags
Channels

International — Media Statements — Research — University News

Groups

Oceans Institute — Science Matters — Sustainable Initiatives