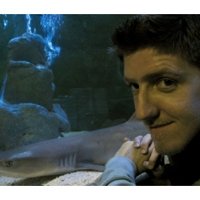 Thursday, 27 October 2011
In response to calls for a shark cull following the recent fatalities in WA waters, Ryan Kempster, a marine neuroecologist from The UWA Oceans Institute, has written an article in The Conversation condemning the plan.
WA Premier Colin Barnett told reporters earlier this week that the government would consider a number of measures to protect swimmers and divers from further attacks. These include the possibility of permitting commercial fisherman to catch more sharks in a bid to reduce numbers.
"The number of attacks is negligible when you consider the vast and increasing number of swimmers entering our coastal waters every year," wrote Ryan. "Removing sharks from our ocean ecosystems is very likely to be ecologically and economically devastating."
Read Ryan's full article in The Conversation here .
Winthrop Professor Shaun Collin, a WA Premier's Research Fellow at The UWA Oceans Institute and School of Animal Biology, has also spoken out against the proposed cull, commenting for a number of publications such as the West Australian, Australian Geographic and ABC Online .
Media references
Beau Gamble (+61 4) 39 699 675
Ryan Kempster (+61 8) 6488 7507
Tags
Channels

Research

Groups

Oceans Institute