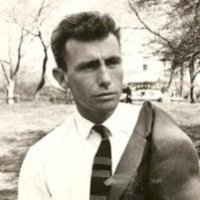 Tuesday, 13 September 2011
One of Western Australia's most celebrated authors will be honoured with an annual lecture at The University of Western Australia.
The Westerly Centre, UWA and St George's College have combined to present the Randolph Stow Memorial Lecture next Tuesday, September 20.
The inaugural lecture, "Getting to Know Randolph Stow:  towards a portrait of the artist as a young man", will be given by Dr Gabrielle Carey, who is currently researching the life and work of Randolph Stow.  Dr Carey teaches writing at the University of Technology in Sydney.
A UWA Arts graduate and former resident of St George's College, Stow died last year at his home in Essex, England, aged 74.  Born in Geraldton and educated at Geraldton High School and Guildford Grammar School, he graduated in 1956 with majors in English and French.
Stow's first two novels A Haunted Land (1956) and The Bystanders (1957) were both written while he was a student at UWA during the long vacations, as was much of the poetry of Act One (1957).  His best known work is The Merry-Go-Round in the Sea , a semi-autobiographical novel published in 1956 about growing up around Geraldton in the 1940s.
Stow won the Miles Franklin Award in 1958 for his novel To the Islands , which explored relations between indigenous and white Australians based on his experience at an Anglican mission in the north-west of WA.
He occasionally lectured in English literature at Australian and British universities and lived in England for more than 40 years, visiting Australia only once in 1974 when he won a Whitlam government fellowship.  Fremantle Press will publish Stow's Selected Poems early in 2012.
The free lecture will be held at St George's College from 5.30pm to 7pm, and all are welcome to attend.
Media references
Michael Sinclair-Jones (UWA Public Affairs)  (+61 8)  6488 3229  /  (+61 4) 00 700 783
Tags
Channels

Alumni — Arts and Culture — Events — Media Statements — University News

Groups

Cultural Precinct — Westerly Centre