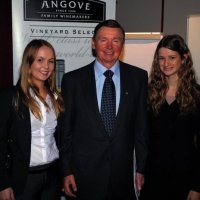 Monday, 29 August 2011
A select number of University of WA law students listened first-hand to advice from the WA Governor, Malcolm McCusker AO QC at The Esplanade in Fremantle on ensuring laws are adequately scrutinised to improve access to justice in Australia.
The group had received a special invitation to the Australian Lawyers Alliance annual WA Conference and had an opportunity to mingle with high profile members of the profession. Those attending the conference came from as far away as Tasmania to take part.
Students were not only given an opportunity to attend sessions, but a chance to meet with and discuss issues with high profile lawyers present during session breaks.
The Australian Lawyers Alliance is the only national association of lawyers and other professionals dedicated to protecting and promoting justice, freedom and the rights of individuals. The organisation has about 1,500 members and represents up to 200,000 people each year in Australia. It promotes access to justice and equality before the law for all individuals regardless of their wealth, position, gender, age, race or religious belief. The Lawyers Alliance started in 1994 as the Australian Plaintiff Lawyers Association, when a small group of personal injury lawyers decided to pool their knowledge and resources to secure better outcomes for their clients – victims of negligence. It is now growing and diversifying to help better protect people from all sorts of backgrounds who find their ability to access justice compromised by poor legislation and bureaucracy.
Tags
Channels

Alumni — Business and Industry — Events — International

Groups

Law