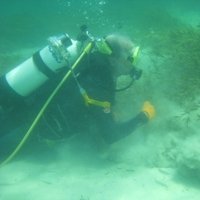 Monday, 22 August 2011
Shark Bay's extensive seagrass meadows act as a massive carbon sink which stores more than eight billion dollars' worth of carbon dioxide if valued according to the Federal Government's proposed carbon price.
That's the figure calculated by researcher Professor Jim Fourqurean who is part of a new global initiative aimed at utilising seagrass meadows to help mitigate climate change.
Professor Fourqurean has been researching the seagrasses of Shark Bay - a World Heritage area - as part of his work with The University of Western Australia's Oceans Institute, where he has been the Gledden Visiting Fellow.
"Shark Bay's seagrass meadows are a vital habitat for dugongs and sea turtles, and they provide the food for fisheries such as the Shark Bay prawn and scallop fisheries," he said.
"There are about 4,000 square kilometres (400,000 hectares) of seagrasses in the bay which places it among the largest seagrass meadows that have been recorded in the world.
"When you think of carbon storage and ecosystems, you generally think of canopies of trees, so a lot of attention has gone into forests.
"But there is as much carbon on average stored in a seagrass meadow as there is stored in a forest.  It's not stored as a living biomass;  it's stored as soil carbon."
Professor Fourqurean has calculated the amount of carbon dioxide stored in the seagrass meadows, as part of work involving his Oceans Institute colleagues Winthrop Professor Gary Kendrick and Emeritus Professor Di Walker who are undertaking a Caring for Our Country project funded by the Australian Government.
"My average number is 884 tonnes CO 2 equivalents per hectare," he says.
"So if you multiply that 884 tonnes of CO 2 by 400,000 hectares of seagrass, you get about 350 million tonnes of carbon stored in the seagrass meadows underneath Shark Bay."
The Federal Government proposes introducing a carbon tax which prices carbon at $23 per tonne, which means the seagrass carbon offset is potentially worth a considerable amount.
"So about $8.13 billion of carbon is stored in the seagrass meadows of Shark Bay - if that carbon had a price on it in the world market," he says.
Professor Fourqurean is involved in the Blue Carbon initiative, along with UWA Oceans Institute Director Professor Carlos Duarte.  The initiative is a relatively new international scientific body aiming to preserve seagrass habitats as a climate mitigation strategy.  Part of the work is exploring the monetary value of the carbon in seagrass meadows as part of a possible offset scheme.
"One of the reasons we're doing that is seagrasses are disappearing at a rate faster than the rate at which coral reefs are disappearing and the tropical forests are disappearing," he says.
"It's not a simple policy issue to solve, because a lot of marine environments don't have a single owner.
"And the reason seagrasses are disappearing is not because of land conversion, like tropical forests are being lost.  Usually seagrasses are lost because of poor watershed management practices and declining water quality near shore.
"So trying to figure out how to capture carbon credits to pay for the maintenance and the reduction of the loss - or maybe even the creation of new seagrass meadows in order to increase the carbon storage - is conceptually difficult."
NB:  Professor Fourqurean is currently in Florida in the US.  He can be contacted by email or phone on (+1 305) 815 0287.
Caption:
Professor Fourqurean dives among the seagrasses at Shark Bay ... researchers are looking at seagrass habitats to help mitigate climate change.
Media references
Janine MacDonald (UWA Public Affairs)  (+61 8)  6488 5563  /  (+61 4) 32 637 716
Tags
Channels

Business and Industry — Media Statements — Research — University News

Groups

Oceans Institute — Sustainable Initiatives