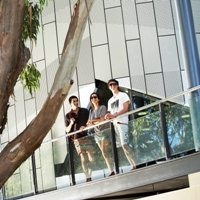 Wednesday, 17 August 2011
Two new independent rankings have confirmed The University of Western Australia's growing national and international reputation.
Australia's foremost non-Government university rating body - The Good Universities Guide - rates The University of Western Australia as the State's leading university and one of the nation's best.
This rating follows the release of the Shanghai Jiao Tong World University Rankings under which UWA now ranks at 110 th in the world.  UWA was also ranked at 33 rd in the world in Life and Agricultural Sciences; at 51-75 in the world for Clinical Medicine and Pharmacy; and at 76-100 in the individual subject of Chemistry.
The Good Universities Guide rates UWA equal first in Australia on key performance measures - giving UWA five-star ratings for graduate starting salaries, positive graduate outcomes, staff qualifications, student/staff ratio, research intensity, research grants and student demand.
UWA Vice-Chancellor Professor Alan Robson said the rankings were a further step towards the University's aim of being in the top 100 universities worldwide by its centenary year, 2013.
"Our University aims to be counted among the top 50 universities in the world by 2050 and our continuing good showing across a range of ranking measures augers well for our ambitious agenda," Professor Robson said.
"The UWA experience enables our staff and our students to contribute at the highest level in their areas of interest and expertise."
The Good Universities Guide is an Australian education resource that helps high school leavers and other prospective students make an informed decision about undergraduate study.  It is the only Guide that contains independent five-star ratings and comparisons of all Australian courses and the providers that offer them.
Media references
Janine MacDonald (UWA Public Affairs)  (+61 8)  6488 5563  /  (+61 4) 32 637 716
Tags
Channels

International — Media Statements — Research — Teaching and Learning — University News