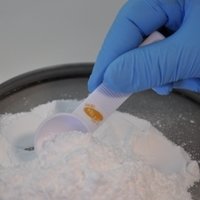 Thursday, 28 April 2011
An early stage nanotechnology project from The University of Western Australia has achieved global recognition, with acquisition of spin-out company iCeutica Inc, by its US partner Iroko Pharmaceuticals.
Iroko Pharmaceuticals is a Philadelphia based mid-tier pharmaceuticals company with a presence in 87 countries around the world.
iCeutica is developing nano-particle reformulations of pain killers and anti-inflammatory drugs and its reformulations of some non-steroidal anti-inflammatory drugs are entering Phase III clinical trial testing in the US later this year.  Nano-sizing the drug particles dramatically improves the dissolution of the product, allowing lower doses to be administered and much faster pain relief for patients.
The Office of Industry and Innovation,  the technology transfer arm of UWA, was instrumental in establishing proof of concept support in 2004 through its early seed fund called Pathfinder and also in negotiating the licensing and option deal in late 2004.  In 2005, with the formation of iCeutica, the University obtained a shareholding for its patented intellectual property which it has now sold as part of this transaction.
"This is a great example of why we do technology transfer from the University to the private sector.  Not only has this UWA technology been developed to provide real life patient benefits, the relationship between UWA and iCeutica has flourished via an on-campus research presence including joint ARC-linkage projects," Director of the Office of Industry and Innovation, Dr Andy Sierakowski, said.
"We have been very pleased with how the CEO, Matt Callahan, has driven the commercialisation of the technology to this excellent exit.  Working with entrepreneurs and external funders are just some of the ingredients required for successful commercialisation outcomes. The success of the iCeutica spin-out will provide an excellent example for how new inventions can become important investment and community benefit outcomes."
UWA inventors involved in the original technology will each receive a return under the University's revenue sharing policy.
Media references
Dr Andy Sierakowski (OII)  (+61 8)  6488 7048  / (+61 4) 08 900 698
Janine MacDonald (UWA Public Affairs)  (+61 8)  6488 5563  /  (+61 4) 32 637 716
Tags
Channels

Business and Industry — International — Media Statements — Research — University News