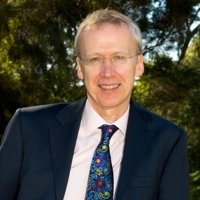 Friday, 1 April 2011
An internationally-recognised academic and university leader has been appointed as Vice-Chancellor of The University of Western Australia from 2012.
UWA's Governing body, Senate, has confirmed that Professor Paul Johnson would succeed Professor Alan Robson who will retire at the end of this year.
Professor Johnson has led La Trobe University in Victoria for the past four years, following three years as Deputy Director of the London School of Economics.
UWA Chancellor Dr Michael Chaney said Professor Johnson was chosen as the outstanding candidate from an extremely talented field which included Australian and international applicants.
"Professor Johnson will be joining UWA at an exciting time.  UWA's institutional performance is at an all-time high and by the beginning of 2012, we will have commenced our program of new courses which will help position the University to achieve its ambition of becoming one of the world's top 50 universities by 2050," Dr Chaney said.
"Professor Johnson's academic background and leadership skills combine well to match UWA's strategic ambition to achieve international excellence in its teaching, research and community activities.  He is well-placed to help our University as it continues to build its international reputation and confirm its place among Australia's leading universities," he said.
The Chancellor paid tribute to Professor Alan Robson whom he described as having led the University with distinction in roles as Deputy Vice-Chancellor and Vice-Chancellor for more than 17 years.
Speaking from Victoria, Professor Johnson said he considered it a privilege to have been asked to join UWA as Vice-Chancellor.
"There is no question that UWA's standing as a world-class university has been built through careful and thoughtful planning and leadership.  I am looking forward to making my contribution to this great institution's journey of success," he said.
Professor Johnson received his doctorate from Oxford University in 1982.  His research has focused on two areas: the economic and social development of Britain since 1850; and the economic impact of population ageing.
He has also been an expert adviser on pension reform and the economics of demographic change to the World Bank, the United Nations Research Institute for Social Development, the British Government and the House of Lords.
He has served on a number of professional councils, learned societies and professional bodies in the UK including the Economic and Social Research Council's Research Grants Board, the Council of the Economic History Society and the Governing Board of the Pensions Policy Institute.  He is a director and member of the Investment Committee of UniSuper, the Australian higher education superannuation fund, and is a member of the Advisory Council of the Australian Research Council.  He was elected to a Fellowship of the Royal Historical Society in 1978 and to the Academy of Social Sciences in 2001.
Media references
Janine MacDonald (UWA Public Affairs)  (+61 8)  6488 5563  /  (+61 4) 32 637 716
Tags
Channels

Appointments — Business and Industry — International — Media Statements — Research — Teaching and Learning — University News