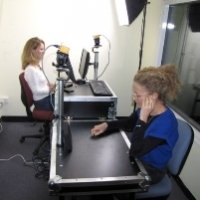 Tuesday, 15 March 2011
Researchers at The University of Western Australia are involved in a landmark joint university study to showcase the diversity of Australian accents across the country.Associate Professor Roberto Togneri and Winthrop Professor Mohammed Bennamoun are experts in the fusion of speech processing and computer vision for the next generation of human-computer interaction systems using voice.
They have received funding from the Australian Research Council for two projects investigating robust and reliable solutions to speech recognition using the latest 3D audiovisual and microphone array technologies.
Professor Togneri, from UWA's School of Electrical, Electronic and Computer Engineering, and Professor Bennamoun, Head of UWA's School of Computer Science and Software Engineering, are leading Western Australia's contribution to one of the projects, which will create the largest-ever audiovisual database of Australian speech.
AusTalk, headed by the University of Western Sydney and Macquarie University, aims to collect the voices of 1,000 Australian English speakers nationwide.  It is hoped that 100 speakers from WA will contribute their time and voices.
"The information we obtain will be used to support Australian speech research and technology and drive better speech technology applications," Professor Togneri said.
"This should lead to improvements in the reliability and usability of speech recognition, through advances in the technology that allows robust extraction of both speech and visual features.
"Expect to see your next generation devices, such as smart phones and televisions, understand your instructions by voice and gesture rather than having to fiddle with a touchscreen, keyboard or remote, and getting it right every time, and from everywhere."
Researchers are seeking Australian English speakers aged over 18, who have had all their schooling in Australia, to contribute their voices.
Participants will be recorded on three separate occasions, reading words and sentences, having a conversation, and playing a game with another participant.
Volunteers can find out more and register their interest in the project .
Media references
Associate Professor Roberto Togneri (UWA School of Electrical,  (+61 8)  6488 2535
Electronic and Computer Engineering)
Janine MacDonald (UWA Public Affairs)  (+61 8)  6488 5563  /  (+61 4) 32 637 716
Tags
Channels

Business and Industry — Media Statements — Research — University News

Groups

Faculty of Engineering and Mathematical Sciences — School of Computer Science and Software Engineering — The Engineering Essential