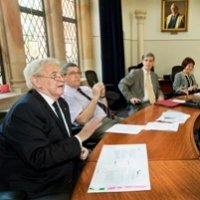 Friday, 11 March 2011
Thousands of tertiary students and university staff across the world will benefit from a meeting of minds at UWA last month.
Vice-Chancellors and Provosts from seven universities, including UWA, came together for two days under the banner of the Matariki Network, to plan their activities for 2011 and beyond.
The universities are all small to medium-sized high quality research-intensive institutions with a commitment to enhancing the student experience.
Dartmouth College (USA), Durham University (UK), Eberhard Karls University of Tubingen (Germany), Queen's University (Canada), University of Otago (New Zealand) and Uppsala University (Sweden) join UWA in enjoying a strong reputation in this area.
Professor Jane Long, UWA's Pro Vice-Chancellor (Education), said all the members of Matariki were dedicated to producing students who were internationally aware, and good global citizens.
To that end, the network has decided to run a student experience workshop for university staff working in student services, hosted by Durham University later this year. They will focus on lifestyle issues including alcohol use and the challenges of living away from home, sharing their best practices and information.
The network will also meet for another high level research forum this year (their first was at Queen's last year), probably at Tubingen. Professor Long said the future research agenda considered for such forums, designed to foster and extend effective international research collaboration, included areas as diverse as bioethics, food security, mental health and ageing.
"In the teaching and learning arena, Uppsala University is also seeking to review its teaching activities and learning outcomes in an international context and has asked each Matariki university to nominate a member to make up a review panel," Professor Long said. "We may be able to draw on the Group of Eight's recent work to create its Quality Verification System as one contribution to that review discussion."
She said that all the Matariki universities had provided a short briefing about their local circumstances: all had a high quality student cohort and they had all experienced the impact of the global financial crisis in varying degrees. "The themes of increasing external regulation and accountability to government and, of course, decreases in public funding were also common."
Professor Long said the discussions over two days in early February also looked at ensuring that the network operated effectively to bring tangible, practical results with a focus on its key objectives of international research collaboration, benchmarking, and best practice in teaching and learning.
Matariki is a Maori name for the group of stars called the Pleiades, also known as the Seven Sisters. The network was established in New Zealand when Professor Alan Robson and David Skegg from the University of Otago agreed that a small group of similar universities with the same vision should be formed.
Published in UWA News , 7 March 2011
Tags
Groups

UWA Forward