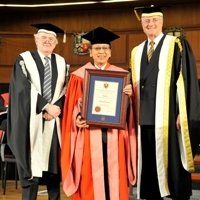 Friday, 11 March 2011
The contribution made by the Vice-President of Indonesia, Professor Dr Boediono, to global affairs has been recognised with the awarding of an Honorary Doctorate from The University of Western Australia from where he graduated more than 40 years ago.
Receiving the award from UWA Chancellor, Dr Michael Chaney, at a ceremony in Winthrop Hall tonight, Professor Dr Boediono said he was proud and humbled by the honour and said his time at the University had a "profound mark" on his thinking.
He said the University's greatest influence had been "its contribution towards the formation of my attitudes towards people and towards society".
"What impressed me most was the ambience of intellectual inquiry. With my UWA experience and credentials new doors of opportunity suddenly opened up to me."
Professor Dr Boediono is in Australia at the invitation of UWA to receive the Honorary Degree of Doctor of Economics and to deliver a keynote address to the University's In the Zone series of conferences and forums to engage national and international leaders in a foreign policy and economic dialogue based in Perth.
UWA's Vice-Chancellor Professor Alan Robson noted that Professor Dr Boediono graduated from UWA with an economics degree in 1967.
"Since his undergraduate days at UWA, Professor Dr Boediono has maintained his long and extensive links to Australia, in particular with Australian researchers and academics," Professor Robson said.
"In Indonesia and throughout the world, Professor Dr Boediono is acknowledged as a reform-minded Minister who played a key role in restoring macroeconomic stability to his nation.
"Professor Dr Boediono's well established history in Australia has enabled a deepening of relations between Australia and Indonesia.  His contribution to the public sector, education sector and the community is appropriately recognised by this Honorary Doctorate from The University of Western Australia," he said.
Watch the presentation
Media references
Janine MacDonald (UWA Public Affairs) (+61 8)  6488 5563  /  (+61 4) 32 637 716
Tags
Channels

Alumni — Awards and Prizes — International — Media Statements — University News