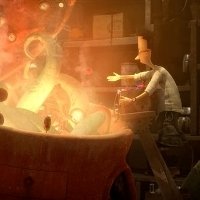 Monday, 28 February 2011
Artist, author and film-maker Shaun Tan has become the first graduate of The University of Western Australia to win an Oscar, Hollywood's highest accolade.
At the 83 rd Academy Awards , the Perth-born, Melbourne-based artist won the Oscar for Best Animated Short Film for a 15-minute film based on his book The Lost Thing .  Mr Tan accepted the award along with British producer Andrew Ruheman.
Turning the book into an animated film was a labour of love spanning nine years, according to the graduate who was awarded a BA with joint First Class Honours in English and Fine Arts in 1996. The Lost Thing also features another highly successful UWA graduate Tim Minchin as the main voice.
UWA Vice-Chancellor Professor Alan Robson congratulated Mr Tan on his win.
"Shaun Tan is an outstanding and inspirational example of a UWA graduate who is achieving international excellence. As we approach our centenary in 2013, UWA is very proud to count an Oscar winner among its graduates," Professor Robson said.
The film is about a boy who finds a strange creature on a beach, and decides to find a home for it in a world where everyone believes there are far more important things to worry about.
The Lost Thing also won first prize at Annecy, the world's largest animation film festival and Best Short Animation at the 2010 Australian Film Industry awards.
Mr Tan began creating images for science fiction and horror stories in small-press magazines as a teenager, and has since become best known for illustrated books that deal with social, political and historical subjects through surreal, dream-like imagery.
Books such as The Red Tree, The Lost Thing and the acclaimed wordless novel The Arrival have been widely translated throughout the world and enjoyed by readers of all ages.  His most recently published book is Tales from Outer Suburbia , an anthology of short illustrated stories. The Bird King , a collection of small sketches, was published in  September last year.
Media references
Simone Hewett (UWA Public Affairs)  (+61 8)  6488 7977
Tags
Channels

Alumni — Arts and Culture — Events — International — Media Statements — University News

Groups

Arts