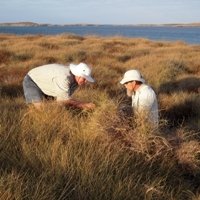 Tuesday, 15 February 2011
A genus of land snail so exquisitely adapted that it can survive in one of the world's harshest environments could help the mining industry identify and manage key conservation areas in the Pilbara.
Professor Mike Johnson of The University of Western Australia's School of Animal Biology said the snail, Rhagada , was an example of what environmentalists termed 'short range endemics': they travelled short distances and therefore developed a complex of distinct populations.
"They've become one of the main indicators of environmental niches with unique gene pools and can help identify key areas that need to be conserved to maintain the region's plant and animal diversity," Professor Johnson said.
WA is home to eight of the nation's 15 biodiversity hotspots, three of which are in the Pilbara.
"On Barrow Island off the Pilbara coast, there seem to be two distinct Rhagada species - a smaller species confined to the northern tip of the island and a dominant, larger species on the rest of the island," he said.  "Finding out how two species develop in such isolation and how they remain as distinct species in such a small area will greatly impact how biodiversity is managed in the Pilbara and in other places in Australia."
Professor Johnson said most people visiting the unforgiving Pilbara had never seen live snails.  "A scattering of empty shells gives a clue to their presence, but it's only when it rains that the snails emerge from their burrows.  As rain in the region is so rare, the snails emerge reproductively ready for action, having 'shrunk' their reproductive organs for optimum survival.
"They weather the heat within the deep-reaching roots of the spinifex.  One of the greatest dangers to their survival is not mining but the spread of the exotic buffel grass which suffocates the spinifex.
"The structure of their shell house is another major adaptive feature, as is shell patternation which may help camouflage the snail from predators.  Shell anatomy is extensively used to taxonomically define species.  Molecular genetic techniques add another layer of information and have brought into question the definition of a species, which is a crucial concept when assessing biodiversity," Professor Johnson said.
Media references
Professor Mike Johnson (UWA School of Animal Biology)  (+61 8)  6488 2244
Janine MacDonald (UWA Public Affairs)  (+61 8)  6488 5563  /  (+61 4) 32 637 716
Tags
Channels

Business and Industry — Media Statements — Research — University News

Groups

Science Matters