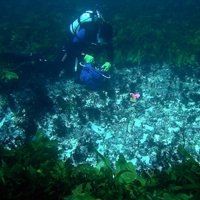 Wednesday, 9 February 2011
Research grants from the Worldwide Universities Network (WUN) and The UWA Research Collaboration Awards will help to form an 'Algal Research Coalition' with partners from around the world.
The project will bring together leading seaweed scientists, and their research students, from UWA's Oceans Institute, The University of Cape Town (South Africa) and The University of Bergen (Norway).
The Principal Investigator, Assistant Professor Thomas Wernberg from The UWA Oceans Institute, says local-scale studies are no longer sufficient to address threats to kelp beds such as climate change.
"The project will bring together research groups that have previously worked independently," he says, "to combine efforts and produce a global benchmark for how climate affects kelp beds."
Kelp beds are some of the most productive and biodiverse ecosystems on Earth, and they underpin vast socio-economic and conservation assets. For example, kelp beds in temperate Australia support fisheries worth more than $500 million per year.
These large seaweeds are sensitive to increased temperature, reduced nutrients, and shifts in herbivore abundance - all documented consequences of climate change. To predict how kelps will respond to these threats, and to reduce the potential impacts, scientists require knowledge of the adaptive capacity of kelps across the globe.
The first stage of the project will be a workshop, most likely held in Perth, to synthesise current knowledge on kelp performance in different climates, and to highlight the gaps to be addressed by future research.
The relationship with researchers in South Africa and Norway further expands the Oceans Institute's international network of collaborators.
Media references
Maryann Evetts (The UWA Oceans Institute) (+61 8 6488 8116
Tags
Channels

Awards and Prizes — Research

Groups

Oceans Institute