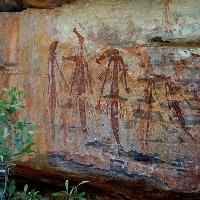 Thursday, 14 October 2010
The distinctive and controversial Gwion-Gwion rock-art of the Kimberley, previously known as 'Bradshaw' rock-art, will be the topic of an international workshop at The University of Western Australia today.
The art is one of Australian archaeology's most contentious topics with disagreement about the age of the art, estimated to be between 3,000 and 17,000 years old, and debate about whether it was created by non-Indigenous people.
In 1892 Joseph Bradshaw was the first European to see the images of large, finely painted and elegant human figures in elaborate head-dress, today named Gwion , which refers to artist ancestors of the Ngarinyin, known as 'inventors', or used more generally by other Aboriginal groups from the Kimberley to refer to "people from long ago".
Workshop organiser UWA archaeologist Assistant Professor Martin Porr said recent moves by the WA Government to open areas of the Kimberley to industry had highlighted the threatened state of cultural heritage in the region.  It had also given urgency to the need to reinforce the Gwion-Gwion as Indigenous and to better understand the art on different levels.
"We need to enter a new phase of collaborative, multidisciplinary research to address problems regarding interpretations of our nation's past through the Gwion-Gwion paintings," Dr Porr said.
An argument by the late Aboriginal rock-art expert Grahame Walsh that the Gwion-Gwion art was created by a pre-Aboriginal race had critical implications for Indigenous rights and native title, Assistant Professor Porr said.
"The event will bring together traditional custodians of the Gwion-Gwion rock-paintings, archaeologists, and contemporary Aboriginal artists engaged in the production of Gwion-Gwion today to advance our knowledge of the nature and antiquity of this distinctive material culture.
"We hope it will also demonstrate the power of an open and balanced dialogue involving both Indigenous and non-Indigenous perspectives and highlight the immense cultural significance of Indigenous Australian visual heritage."
Speakers include traditional custodians of the Gwion-Gwion art and experts in several fields from around Australia, Canada and the UK.
Media references
Assistant Professor Martin Porr (UWA School of Social and Cultural Studies)   (+61 8)  6488 2113
Janine MacDonald (UWA Public Affairs)  (+61 8)  6488 5563  /  (+61 4) 32 637 716
Tags
Channels

Events — International — Media Statements — Research — Teaching and Learning — University News

Groups

Centre for Rock Art Research and Management