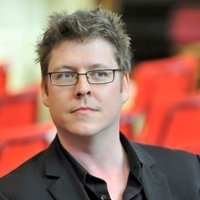 Wednesday, 4 August 2010
The director of one of the UK's largest and most vibrant arts festivals has been appointed as artistic director of the Perth International Arts Festival, founded by The University of Western Australia.
Jonathan Holloway, currently artistic director and chief executive of the 238-year-old Norfolk & Norwich Festival, will take over the artistic direction of the Perth Festival from 2012-2015, following the departure of current artistic director Shelagh Magadza after the 2011 Festival.
Mr Holloway's career embraces festival artistic direction, production, creative direction, theatre direction, writing, education and a contribution to the arts through board membership.
UWA Vice-Chancellor Professor Alan Robson said Mr Holloway would further strengthen the Perth International Arts Festival's reputation as one of the most exciting festivals in Australia, and the world.
"Our Festival has an international reputation built up over many successful decades.  We look forward to working with Mr Holloway in continuing to enhance our reputation for international excellence in the arts," Professor Robson said.
Chair of the Festival Board Mr Mike Smith welcomed the appointment, noting the strength of Mr Holloway in mounting festivals which match the highest artistic standards with outstanding community support and engagement.
"Balancing world class art and community support has been the hallmark of our Festival since its inception and we look forward to Mr Holloway continuing this great tradition," he said.
Jonathan Holloway said of his appointment:  "I am thrilled to have been invited to lead artistically one of the world's great festivals, in one of the world's most beautiful places.  I have had a fantastic time in Norwich, working and playing with a community of remarkable people.  Perth International Arts Festival has a great energy and Western Australia has a growing appetite for the arts.  I look forward to four years of great collaborations."
Jonathan Holloway's stewardship of the Norfolk and Norwich Festival since 2004 has transformed that festival's scale and influence.  Audiences have grown ten-fold, turnover has increased by over 500 per cent, ticket sales have tripled and the festival is now the fourth largest city arts festival in the UK.
Prior to joining the Norfolk & Norwich Festival, Mr Holloway was head of the Events Department at the National Theatre in the UK, one of the four artistic producing departments, working closely with Trevor Nunn and then Nicholas Hytner.  He was the founding artistic director/producer of Watch This Space , a free festival of international outdoor performance; artistic director of the National's Festival of Lights , a series of arts and live events exploring multi-cultural London; and was a programmer and producer of children's theatre, site specific dance and education projects.
Mr Holloway describes his festival passions as international theatre, outdoor spectacle, site specific work, music, literature, dance, large scale community arts and contemporary visual arts, all of which have a significant place in the Perth International Arts Festival program.
The Perth Festival, established by The University of Western Australia's Professor Fred Alexander as the 'Festival of Perth' in 1953, is Australia's oldest international arts festival.
Mr Holloway will commence work in Perth later this year, observing the full 2011 program, before guiding the artistic direction of the next four festivals.
Picture courtesy of Raphael Helle.
Media references
Rania Ghandour (Perth International Arts Festival)  (+61 8)  6488 8618  /  (+61 4) 03 025 535
Janine MacDonald (UWA Public Affairs)  (+61 8)  6488 5563  /  (+61 4) 32 637 716
Tags
Channels

Arts and Culture — International — Media Statements — University News

Groups

Cultural Precinct