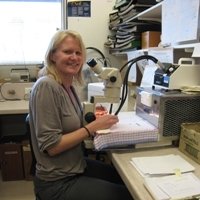 Thursday, 10 June 2010
Mosquitoes' appetite for sugar has been exploited to provide vital information about the spread of the diseases they carry in a simple, effective test developed by a researcher at The University of Western Australia and colleagues in Harvey, WA, and Queensland.
The results of their research was published in Proceedings of the National Academy Sciences of the United States of America (PNAS) today.
Research Associate Professor Cheryl Johansen of UWA's School of Biomedical, Biomolecular and Chemical Sciences, said mosquito-borne viruses were a global public health problem and good surveillance systems are important for detecting and managing outbreaks of the diseases they cause.
"Some viruses, such as West Nile, Japanese encephalitis and chikungunya viruses, have dramatically expanded their geographical ranges," Professor Johansen said.  "In Australia, viruses such as Murray Valley encephalitis cause potentially fatal encephalitis, and thousands of cases of Ross River virus disease occur every year.
"Current surveillance methods for detecting the spread of these viruses are laborious, expensive and logistically problematic.  In our new system, we capture mosquitoes in carbon dioxide-baited updraft box traps.  Once inside, they feed on honey-soaked cards.  Mosquitoes infected with viruses also deposit virus when they leave saliva on the cards as they feed on the honey.  Live virus quickly dies on the cards.  However the genetic material is able to be detected in laboratory tests.
"The cards are then analysed.  In field trials, we detected Ross River and Barmah Forest viruses in two locations.  The viral genetic material was preserved for at least a week on the cards.  The advantages of this system are that mosquito handling or processing is unnecessary, reducing the time taken to detect the viruses.  It also allows long-term placement of traps and continuous collection of data documenting virus presence in mosquito populations."
Media references
Research Associate Professor Cheryl Johansen (+61 8)  9346 4656
(UWA School of Biomedical, Biomolecular and Chemical Sciences)
Janine MacDonald (UWA Public Affairs)  (+61 8)  6488 5563  /  (+61 4) 32 637 716
Tags
Channels

International — Media Statements — Research — University News