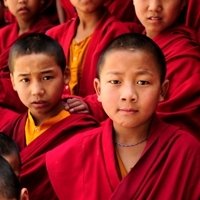 Tuesday, 8 June 2010
The University of Western Australia will contribute to global discussion on the role of religion in the world through a new initiative.
Through the UWA Religion and Globalisation Initiative, UWA will join other global research universities, under the auspices of former British Prime Minister Tony Blair's Faith Foundation, which will link their research and teaching strengths as well as develop and deliver courses on religion and globalisation.
UWA is the first Australian University to join the network. Other universities include Yale University in the US, the National University of Singapore, Durham University in the UK, McGill University in Canada and Monterrey Technological University in Mexico.
UWA Vice-Chancellor, Professor Alan Robson, said UWA was a religiously and culturally diverse community of more than 20,000 students and staff from more than 90 countries around the world.
"In this era of rapid globalisation and interconnectedness, developing culturally competent students includes an understanding of the world's religions and secular ideologies, and their part in shaping culture, contemporary political events and social organisation."
Mr Blair, in announcing the partnership with The University of Western Australia, said that religion was at the very core of life for billions of people around the world and could not be ignored.
"The University of Western Australia is poised to be a leader in this field. We look forward to working with the University to ensure that together we are providing our future leaders with the intelligence and analysis needed to understand the impact of religion on the world," Mr Blair said.
UWA already offers a number of courses that examine the role of religion in world affairs including religion and global politics; Islam and world politics; religion and law; and religion, politics and society in Asia.
Convenor of the initiative, Ms Elena Douglas, said scholars of the study of religion, together with the campus faith community, would provide an intellectually rigorous, critical examination of the role of religion, faith and secularism in the world today.
"Globalisation has many dimensions. One of its fruits is that we can create classrooms and communities which span the globe. Add to this the opportunity to learn and explore what is shared and what is different in values, beliefs and philosophies and you have a very rich educational experience. This is globalisation at its best," Ms Douglas said.
"We hope to have an influence on Australian and regional public policy, particularly in the Asian and Indian Ocean rim contexts."
Homepage photograph by Patrick McMullan
Media references
Ms Elena Douglas (Convenor, Religion and Globalisation Initiative)  (+61 8) 6488 7575
Ruth Turner (CEO, Tony Blair Faith Foundation)  (+44) 7917 521 024 (London)
Janine MacDonald (UWA Public Affairs)  (+61 8)  6488 5563  /  (+61 4) 32 637 716
Tags
Channels

Arts and Culture — Events — International — Media Statements — Research — Teaching and Learning — University News

Groups

Cultural Precinct