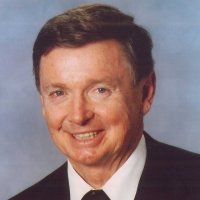 Monday, 31 May 2010
Staff and graduates of The University of Western Australia have been honoured at the 2010 Western Australian Citizen of the Year Awards.  Paediatrician Dr Trevor Parry, a Clinical Professor with the UWA School of Paediatrics and Child Health received the Children and Young People Lifetime Achievement Award.
Consultant plastic surgeon Robert Pearce, a Clinical Associate Professor with the UWA Faculty of Medicine, Dentistry and Health Sciences, received the Professions Award.
They were joined by UWA graduates Estelle Blackburn (Arts, Culture and Entertainment category), Andrew Forrest (Governor's Award for Regional Development) and Malcolm McCusker QC (Community Service category).
Dr Trevor Parry was described by the judges as "an advocate of 'good policy must be founded on good research' and as someone who "implements this belief as a medical as well as public educator with a particular focus on parenting, child development and the importance of the early years." He was responsible for the establishment of the State Child Development Centre some 29 years ago, and was its Director until April 2004.
Clinical Associate Professor Robert Pearce was described as "a highly qualified and experienced reconstructive plastic surgeon" and "exemplifies integrity and commitment to his patients. He inspires those under his guidance to maximise their potential. He always finds time for his students and patients and is happy to assist colleagues and friends at all times."
Estelle Blackburn was described as "an author, investigative journalist and civic advocate." In 1992 she interviewed John Button, who claimed he was wrongfully imprisoned for the manslaughter of Rosemary Anderson. After six years' reviewing and compiling evidence she summarised her findings in the book Broken Lives, where she revealed her key discovery about Eric Edgar Cooke confessing to the murder before his execution. The book's success led to new appeals and eventuated in the convictions for both Button and Daryl Beamish being overturned.
Andrew Forrest was described as having a "commitment to the community (that) stretches well beyond that of the mining industry. He has contributed to Western Australia economically, socially and philanthropically...and his commitment to Aboriginal employment is unquestionable." Recently he launched the Aboriginal Employment Covenant and Generation One aimed at creating sustainable jobs and the end of disadvantage for Indigenous people. He is also the founder and chairman of the Australian Children Trust.
Malcolm McCusker was described as taking a "proactive approach, providing leadership and strategic advice in his pursuit of creating a better State for all. Through his contributions he has made a difference in social justice, youth development, Indigenous advancement, aged care health, medical and scientific research, the environment, education, support for the arts and the building of better facilities for all Western Australians."
Media references
Janine MacDonald (UWA Public Affairs)  (+61 8) 6488 5563  /  (+61 4) 32 637 716
Tags
Channels

Alumni — Awards and Prizes — Business and Industry — Events — Media Statements — University News