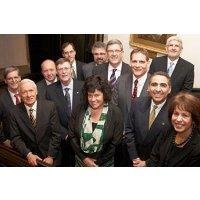 Friday, 14 May 2010
The University of Western Australia has become a foundation member of a new international network of high-quality universities across seven nations.
The leading research-intensive universities, which pride themselves on the quality of the university experience, are among some of the oldest institutions in their respective countries.  They include:
Dartmouth College (New Hampshire, USA;  est. 1769)
Durham University (England;  est. 1832)
Eberhard Karls University of Tubingen (Germany;  est. 1477)
Queen's University (Canada;  est. 1841)
University of Otago (New Zealand;  est. 1869)
The University of Western Australia (Australia;  est. 1911); and
Uppsala University (Sweden;  est. 1477).
The group, known as the Matariki Network of Universities , is a select group recognised for their international practice in teaching and learning.  They are universities which encourage their students to live on and around campus to enrich their experience of student life and learning.
Vice-Chancellor Professor Alan Robson said UWA's membership of the select group would have significant benefits for the University and its students, and the network would harness their combined expertise to tackle world-wide issues.
"Our University is very proud of its reputation for excellence and its record in providing an outstanding student experience.  This international collaboration will enable us to extend our teaching and research networks and enrich the education of our students even further," Professor Robson said.
"This network will complement our current direction in broadening the education of our students with a range of new courses to add breadth and depth and to enhance critical thinking, research and communication skills."
An inaugural meeting of the Matariki Network has already discussed a program of activities including exchange programs for academics, students and administrative staff, research networks, visiting fellowships, joint postgraduate programs and collaboration on major international projects, as well as social responsibility projects, cultural and sporting activities.
'Matariki' is the Maori name for the group of stars called the Pleiades, which are also known as the Seven Sisters.  'Matariki' is also the word for the Maori New Year, symbolising a new beginning.
Media references
Janine MacDonald (UWA Public Affairs)  (+61 8)  6488 5563  /  (+61 4) 32 637 716
Tags
Channels

International — Media Statements — Research — Teaching and Learning — University News