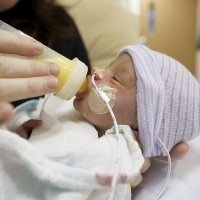 Tuesday, 20 April 2010
Thousands of premature babies worldwide could be saved if probiotics were added to their feeds, according to research led by The University of Western Australia.
The research, published yesterday in the leading international medical journal Pediatrics , found survival was doubled in premature babies who received certain probiotics.
Lead author Associate Professor Sanjay Patole, from UWA's School of Women's and Infants' Health based at King Edward Memorial Hospital, said death, and necrotising enterocolitis (NEC), a serious inflammatory bowel disease, were major issues in extremely premature babies worldwide.
"Probiotics are the live beneficial microorganisms that are naturally present in the digestive tract.  These friendly bacteria promote health by suppressing the growth of potentially harmful bacteria, improving immune function, and enhancing the protective barrier of the bowel," Professor Patole said.
The team of researchers including Dr Girish Deshpande and Dr Shripada Rao at KEMH, Adjunct Professor Max Bulsara, UWA Centre for Health Services Research reviewed 11 randomised trials in over 2,000 babies born more than six weeks prematurely.
"Our review showed that survival doubled and the risk of NEC was reduced by more than 50 per cent in babies who received probiotics without any significant adverse effects," Professor Patole said.
"These significant and conclusive results have cleared the pathway for the routine use of probiotic supplementation in premature babies:  a significant milestone in their care.  The research team at KEMH is currently working on making a safe and effective product available for premature babies in Australia."
Media references
Associate Professor Sanjay Patole (+61 8)  9340 2222
(UWA School of Women's and Infants' Health)
Dr Girish Deshpande (+61 8) 9340 2222
Janine MacDonald (UWA Public Affairs)  (+61 8)  6488 5563  /  (+61 4) 32 637 716
Tags
Channels

International — Media Statements — Research — University News