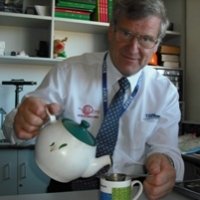 Monday, 29 March 2010
Fraudulently labelling tea as expensive Darjeeling is a worldwide problem being tackled by researchers at The University of Western Australia.
Winthrop Professor John Watling and PhD researcher Assistant Professor Tamara Pilgrim of UWA's Forensic and Analytical Chemistry Group said Darjeeling tea was considered among the world's finest and Australian tea drinkers often paid too much for an inferior product without realising it.
Head of one of the nation's award-winning centres for provenancing food products and crime-scene analysis, Professor Watling said the process of analysis was similar whether the product examined was food, blood, wine, potato crisps, glass, porcelain, bullets, metal or any other material.
"As a plant grows, it's affected by its environment," Professor Watling said.  "It is said of humans that we are what we eat: the same is true of plants.  The soil in which a plant is grown and the water it takes from the soil leave an isotopic and a trace element signature in the plant.  These indicators are still present after the plant has been harvested and processed, making it possible to link the plant back to its original growing region, within a few kilometres, anywhere in the world.
"There are many food products that attract a high price as a result of the reputation of the production region.  As well as Darjeeling and tea, there is the Champagne region and wine, and olive oil from specific countries in the Mediterranean.  Consumers need to have the assurance that they are getting what they pay for.
"With global imports comes the potential for being exposed to food-borne diseases from which we've been historically protected due to our geographical isolation.  This is an issue of greater concern as it affects our health and also may infect home-grown crops.  Provenancing these crops will significantly improve our bio-security position."
Professor Watling said analysis may deter unscrupulous producers from fraudulently labelling their product.  Methods pioneered at the Centre were so accurate that it was possible to know the plantation on which the tea was grown and whether a glass bottle belonged to a batch created within 90 minutes of another.
Media references
Winthrop Professor John Watling (+61 8) 6488 4488
(UWA Forensic and Analytical Chemistry Group)
Sally-Ann Jones (UWA Public Affairs)  (+61 8)  6488 7975  /  (+61 4) 20 790 098
Tags
Channels

Business and Industry — International — Media Statements — Research — University News