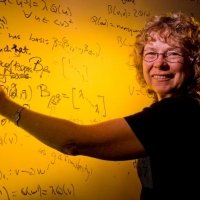 Wednesday, 2 December 2009
Australia's most highly cited pure mathematician, Professor Cheryl Praeger, was today named the WA Scientist of the Year.
Professor Praeger, Professor of Mathematics at The University of Western Australia and an Australian Research Council Federation Fellow, is a leading international researcher in group theory, algebraic graph theory and combinatorics.
Professor Kevin Pfleger from the UWA-affiliate, The Western Australian Institute for Medical Research, was named Young Scientist of the Year for his work in developing novel technology to identify and study receptors that are extremely important in the treatment of disease.
UWA Vice-Chancellor Professor Alan Robson congratulated the recipients and said that the awards recognised that their work was at an international standard of excellence.
Announcing the winners today, Western Australian Science and Innovation Minister Troy Buswell said: "Professor Praeger's work has resulted in findings that have led to new thought being adopted by mathematicians worldwide."
Professor Praeger is in the top one per cent of highly cited mathematicians in the world and is recognised for adapting a 19th century theory by a now celebrated rebel French teenager, Evariste Galois, for use in today's information technology.
Professor Praeger is also well-known for promoting the involvement of women in mathematics and for the Family Maths Program Australia (FAMPA) which encourages primary school students. Her creativity and enthusiasm in research and teaching help students distil new ideas.
Image provided by Department of Commerce.
Media references
Janine MacDonald (UWA Public Affairs)  (+61 8)  6488 5563  /  (+61 4) 32 637 716
Tags
Channels

Awards and Prizes — Media Statements — University News