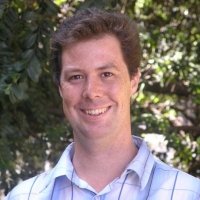 Thursday, 24 September 2009
Eric May, an Associate Professor from The University of Western Australia, has been appointed as the Chevron Chair in Gas Process Engineering.
UWA was selected to join Chevron's global university partnership program in 2008 and the appointment of Associate Professor May is part of the $6.9 million deal between Chevron and the University.
Thirty-two-year-old Professor May, currently based in UWA's Centre for Petroleum, Fuels and Energy, was appointed after a year-long search for an appropriate candidate.
Chevron has committed $2.3 million to establish the Chair, to fund postdoctoral researchers, and to fund scholarships to attract the best students into gas process engineering.
UWA Vice-Chancellor Professor Alan Robson said the appointment demonstrated the depth of expertise within the University.
"Our researchers are leading world-class research in oil and gas technology," Professor Robson said.  "With Chevron's support, we will continue to develop our research expertise while educating the next generation of engineers in gas process engineering."
For Chevron, having highly qualified people in Western Australia is important.
"The appointment of Professor May builds on Chevron's partnership with The University of Western Australia and is an important step in building local engineering capability to develop Western Australia's world-class gas assets," said Colin Beckett, Chevron Australia University Partnership Program Executive Sponsor.
Professor May said significant research into gas process engineering was being done at UWA to improve the processes by which the gas is extracted and converted into a saleable commodity.
"In the next 10 years, there is going to be around $100 billion spent on WA's gas assets," he said.  "A one to two per cent efficiency improvement has a very significant impact both financially and in terms of the total energy recovered."
"Attracting the best students is the starting point for meeting the technological challenges the future massive gas projects present," said Professor May.  "By putting a comprehensive (gas process engineering) program in place, we are not only providing the engineers for tomorrow; we are providing the leaders of the engineers of the future."
Professor May leads research in hydrocarbon process engineering, adsorption, CO2 sequestration, flow assurance, and the measurement and prediction of fluid properties.  He has secured over $5 million of funding since 2006.
Of his current research activities, two projects entitled "Advanced pressure swing adsorption technology for improved feed treatment and enhanced LNG production efficiency", and "Fundamental data and thermodynamic modelling for improved process design, operation and simulation" are supported by Chevron, the Western Australian Energy Research Alliance and the ARC Linkage programme.
Media references
Guy Houston (Chevron Public Affairs)  (+61 8) 9485 5745  /  (+61 4) 05 310 736
Janine MacDonald (UWA Public Affairs)  (+61 8)  6488 5563  /  (+61 4) 32 637 716
Tags
Channels

Business and Industry — Media Statements — University News

Groups

Centre for Energy